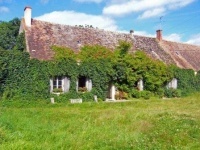 7 picture(s)
Price : 240 000 €
Type of property : Maisons de campagne, de village, fermettes - Domaines - Agricoles, terres, vignes
Region : Centre - Loire Valley
Land space : 100 acres
Period : 18th century.
General state : to be restaured.
Nice Property, in the middle ,of 10 ha of land, with 2 rivers. 500m2 of house, very large outbuildings, a huge barn, 600square meter large. very charming landskape. There is a possibilité to adquire 23 more HA. The total price of the property will then be of 277 000 euros.
Ref : 36_14455
Add to my selection