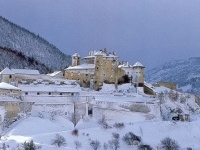 18 picture(s)
Price : contact us
Type of property : Châteaux (dont MH, ISMH), manoirs
Region : Provence-Alpes-Cote d'Azur - French Alps - Savoie
Living space : 3000 m2
Land space :
At 1350 m. of altitude, it dominates an alpine valley in a gorgeously preserved natural setting perfect for hiking and close to ski resorts. Formely property of the Dauphins then of the Kings of France, the past of this fortified chateau is intimately linked to the episodes in the history of France. For example, its defences were reinforced by Vauban after a siege led by the Savoyards. Beautiful elements of medieval architecture (dungeon, drawbridges, etc). Immense possibilities.
Ref : 01_20_M
Add to my selection